On the Tools menu, click Project Options and click the Custom Edit tab.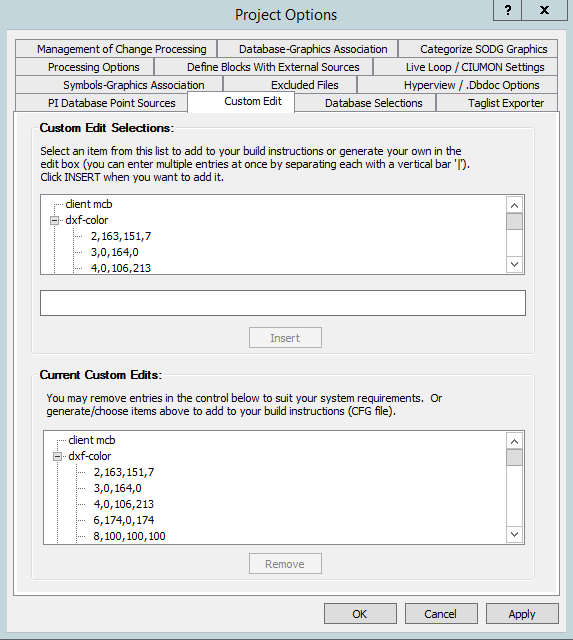 The top box Custom Edit Selections lists default custom edits typically used:
client mcb - ensures a remapping of tags such as 29-41 to 29-MC. This is present for a particular client, and has no impact for others.
dxf-color 2,163,151,7 (and others) - remaps color 2 to a different shade (163,151,7) (See below for more information.)
link_slave_references - makes a label for a non-exception-reported slave block in order to make links from the slaves on CAD sheets to AutoCAD drawings or other documents.
min_tag_length 4 - ensures links are not made for tags shorter than min_tag_length of 4. To view any tags in your system that are shorter than min_tag_length, open file short_tags.txt (if present) in your project folder.
In the middle of the box, new custom edits can be inserted, in consultation with GMCL. Click the Insert button to add each to the list. Multiple entries separated with a "|" can be inserted in one step.
The lower box displays the Current Custom Edits enabled, listed alphabetically. If you wish to delete an entry, select the appropriate one from this final list and click the Remove button.
These entries are stored in the registry so that they do not have to be re-entered on subsequent builds.
Some of these custom edits can be used for
See also