When you choose to start a build from the Build stage of the process, BuildPlus will automatically check the search paths specified in the Configuration Wizard for new module header files if you have chosen to include CAD files in your project (the module header file must have a corresponding CAD file to go along with it)
If new files or folders are detected, they will be listed for you and you will be asked if you wish to include them in your present build.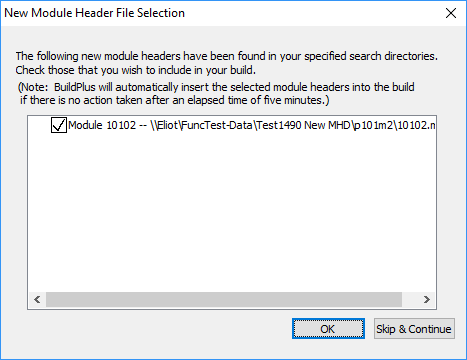 All new files/folders will be automatically checked for inclusion in the build. Uncheck the box to the left of the selection to exclude it from the build.
If no action is taken within five minutes, all newly found modules folders will be automatically included in the build. For new CAD modules, BuildPlus will again check for any duplicate module headers that may conflict with previous module choices and ask that they be resolved before the build continues.
See also