By clicking the Options Menu, the Properties for Hyperview window will open. Click the Print Settings tab.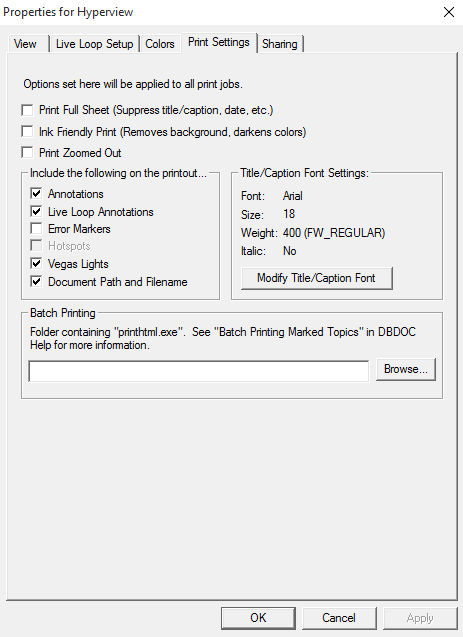 Title/Caption Font Settings: Displays the type and size of font to be used for the caption and title when printing. You can change the font style and size by clicking the Modify Title/Caption font button.
Device Independent Print: Use this if your printed image does not accurately depict your viewing image (it is slower than regular device dependant printing). DIB (device-independant bitmap) printing circumvents any interpretation of the drawing primitives by the printer.
No Color Reversal: Check this option if your graphics have white backgrounds and you do not wish to have the color reversed to black.
Print Annotations: Check this option if you want the annotations that you made on your drawings or graphics to show up on your printout.
Print Error Markers: Check this option if you want error markers to show up on your printout.
Print Full Sheet: Check this option to print the selected pane as a full screen, without headers, captions, or titles.
See also