On the File Menu, click Page Setup to modify page layout settings.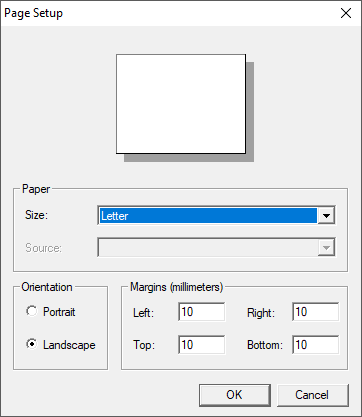 Paper Size: Select from the various paper sizes supported by your printer driver. Click on the Size: pull down list box, and then click on the desired size. Note that, in some cases, your printer driver may support paper sizes that your printer cannot physically handle.
Paper Source: Select from the various paper handling options supported by your printer. Most printers support automatic or manual feed.
Orientation: Most printers support portrait and landscape. In portrait mode, the long edge of the paper runs vertically, while in landscape mode, the long edge runs horizontally.
Margins: Set the margin sizes as desired.
Printer: (In Windows XP and Windows 2000 only.) Opens a printer-specific dialog box. This dialog box contains further options, which allow you to configure your output and/or your printer. For help with your printer's options, consult the manuals that came with your printer.
See also