BuildPlus reports any duplicate module headers for CAD or CLD or ladder files so the correct entries may be selected for the build: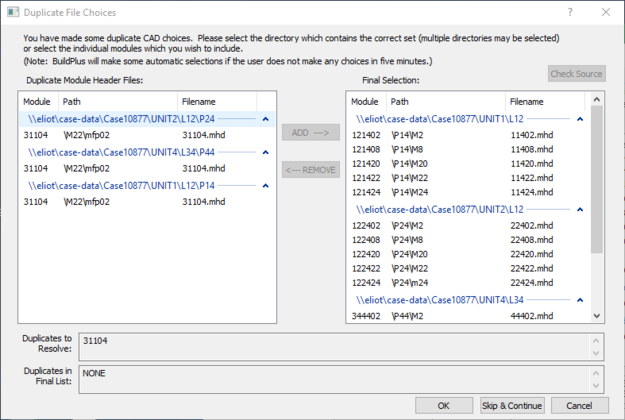 Modules that are unique have been placed in the final selection list on the right-hand pane. The duplicate modules that need to be resolved are listed at the bottom of the dialog box, with the choices listed in the left-hand pane. (Files are grouped together based on a common root directory and are displayed in a treeview.)
Clicking the Check Source button lists which Composer database (.ebp) file was used to create each Decomposer directory
Select individual modules or the full root path to move into the final list; check the box beside the appropriate files and/or roots and click the Add button (or use ALT+A).
To remove from the final list, select the appropriate files and/or roots and click the Remove button (or use ALT+R).
To continue without any of the modules listed as duplicate, click on Skip and continue.
Once the correct selections are made, this dialog will no longer appear, and the final selections can be viewed within the Wizard.
See also