On the View Menu, click Live Loop Display, or click the

button on the toolbar.
Use this feature to retrieve live block values from your ABB INFI 90 process control system. To begin monitoring the live data for all the inputs and outputs on the display click on the clock button

on the toolbar. Data requests will be sent to the CIUMON specified on the Live Loop Setup tab of the Options dialog. The data will be updated at the rate specified in the View tab of the Options dialog. To conserve bandwidth, only data for items which are actually visible on the display will be fetched. Data for offscreen values will not be fetched.
To stop live data collection, click the

button again. Viewing a different document will also stop data collection. Data collection in Live Loop Annotations and the Watch Window will continue independently of this button.
Note that live data cannot be retrieved for static hotspots with Block=0.
When continuous live data monitoring is turned on, any graphics that have bar graphs that display analog live data values are displayed as such in Hyperview. Bar graphs can also be viewed for any individual value by creating a live loop annotation displaying a dynamic bar.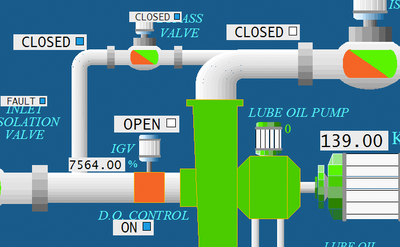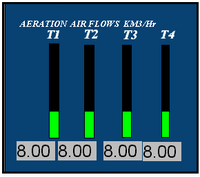 To access the live data for individual inputs and outputs, right click on the hotspot and select Create Live Loop Annotation for this Block. For more information about individual live loop annotations, see Creating live loop annotations. To show live specs for function blocks, use Live Specs. To trend live data for groups of blocks, use the Watch Window.
See also