Resolving non-accessible Path/File
The configurator stage of the build uses the skeleton .RAW file to locate all of your current build source files. This is a transparent step for the user unless you need to specify special LPM for batch, ladder, AutoCAD and/or text files.
Rules for LPM batch, text, etc.
Will use any internal loop, pcu, module it can find (generally only in batch and ladder files)
Overridden with LPM from file name if it matches CAD Sheet naming convention
Overridden with directory name - eg. 20406 Ref Def.B90 - This would be module 20406. This last option of modifying your directory name to include a LPM is the easiest way to apply special loop, pcu, module information to your set of files.
What happens if BuildPlus can't find my source files?
This situation may arise when you have not logged onto the computer containing the source files required for the build. BuildPlus will ask you what you want to do: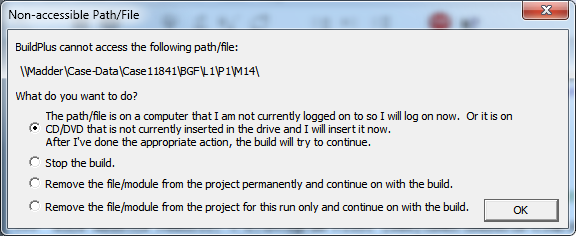 Once you have enabled access to the file listed, click Try again. Otherwise choose to Stop the build and change file selections.
See also