A USB dongle (security key) is required to run a build to completion with BuildPlus. A warning will appear if the dongle is not present when you start BuildPlus, but also if you get to the Hyperlink compile stage. The build will not continue and run Hyperlink until the dongle is present.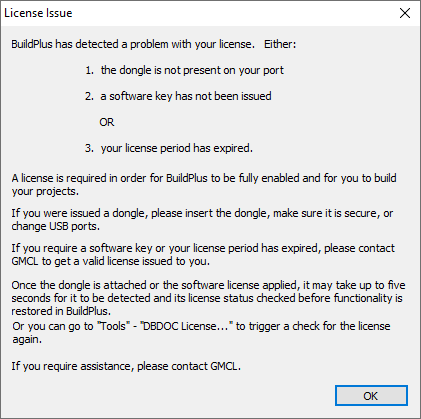 Connect the dongle to your USB or parallel port, and click OK.

To check, install, or uninstall the dongle driver, on the Tools Menu, click Check Dongle Driver

The window will display which drivers have already been installed, if any, and provide you with options to install or uninstall as applicable.
Occasionally, with 64 bit Windows 7 or Vista operating systems, the dongle information may not be displayed, and a message similar to the one below may appear. This does not affect your build or build results. Please contact GMCL for assistance with dongle-related issues.
See also