On the Help menu, click DBDOC License or on the Tools menu, click DBDOC License....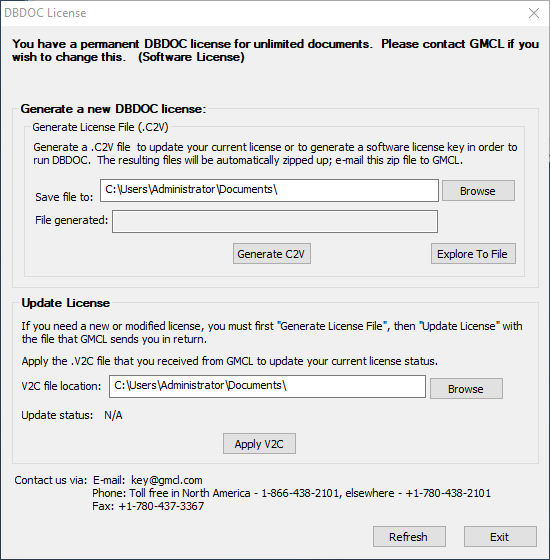 License Information
Your current license information is be displayed here. This includes type of license, date of issue, authorized level, number of copies, and licensed number of concurrent users.
(Note that with a temporary, 30 day license, function code database pdf files cannot be built into the M14 file.)
Adding or changing license and computer key information
On the right side of the window, your Computer Code will be displayed, along with a space to enter a Computer Key that you receive from GMCL when you authorize your copy of DBDOC.
To receive a Computer Key from GMCL:
If you have e-mail access on the build computer, click on the Send E-mail button to send your computer code to GMCL (key@gmcl.com).
If you do not have e-mail access on the build computer, then copy the Computer Code into an email and send it to key@gmcl.com.
GMCL will respond with your unique Computer Key. To apply the Computer Key:
Enter the Computer Key from GMCL in the Computer Key box.
Click Apply Key.
Disabling the existing license
When you click the Kill License button, an alphanumeric code will be generated for submission to GMCL via e-mail, phone, or fax.
See also