On the Tools menu, click Project Options, navigate to the Processing Options tab and click the Advanced Options button.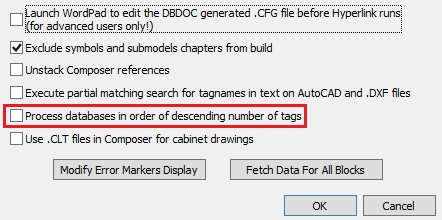 Process databases in order of descending number of tags
During the MediaView compiler stage of the build the following error may appear:
"Warning 1581: Sort failure due to error '1'. Compilation failure during context string resolution."
This may be resolved by processing the databases in order from largest to smallest during the MediaView stage. Check this option and rebuild your project to see if the re-ordering will eliminate the problem.
See also